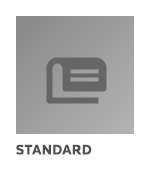 This part of IEC 61400-12 specifies a procedure for verifying the power performance characteristics of a single electricity-producing, horizontal axis wind turbine that is not considered to be a small wind turbine per IEC 61400-2. It is expected that this document be used when the specific operational or contractual specifications do not comply with the requirements set out in IEC 61400-12-1. The procedure can be used for power performance evaluation of specific turbines at specific locations, but equally the methodology can be usedto make generic comparisons between different turbine models or different turbine settings.
The purpose of this document is to provide a uniform methodology of measurement, analysis, and reporting of power performance characteristics for individual electricity producing wind turbines utilising nacelle-anemometry methods. This document is intended to be applied only to horizontal axis wind turbines of sufficient size that the nacelle-mounted anemometer does not significantly affect the flow through the turbine's rotor and around the nacelle and hence does not affect the wind turbine's performance. The intent of this document is that the methods presented in this document be utilised when the requirements set out in IEC 61400-12-1 are not feasible. This will ensure that the results are as consistent, accurate, and reproducible as possible within the current state of the art for instrumentation and measurement techniques.
This document describes how to characterise a wind turbine's power performance in terms of a measured power curve and the estimated AEP. Guidance on uncertainty considerations relating to the power performance of the sample of turbines tested relative to the power performance of all turbines in a wind farm is provided. Guidance on the evaluation of the combined uncertainty for the case where multiple turbines are tested is also provided.
Product Details
Edition:

2.0

Published:

09/01/2022

ISBN(s):

9782832255940

Number of Pages:

164

File Size:

1 file , 3 MB

Note:

This product is unavailable in Ukraine, Russia, Belarus